2016/07 Cisco Official News!!!
CCNP Collaboration 300-080 CTCOLLAB: Troubleshooting Cisco IP Telephony & Video v1.0 Exam Questions and Answers New Updated Today!
Instant Download Free 300-080 PDF & 300-080 VCE from Braindump2go.com.
100% Exam Pass Guaranteed!
NEW QUESTION 91 – NEW QUESTION 100:
1.|2016 Latest Cisco 300-080 CTCOLLAB PDF & 300-080 CTCOLLAB VCE 196Q&As Dumps Instant Download:http://www.braindump2go.com/300-080.html
2.|2016 New Cisco 300-080 CTCOLLAB Exam Questions PDF:https://drive.google.com/folderview?id=0B272WrTALRHcRVZjNGRLeDJsNk0&usp=sharing
QUESTION 91
If you need to avoid choppy speech, what is the maximum tolerable round-trip delay between two VoIP endpoints?
A. 100 ms
B. 200 ms
C. 300 ms
D. 400 ms
E. 500 ms
F. 800 ms
Answer: C
QUESTION 92
Where does an IP phone obtain the extension number and speed-dial settings from?
A. the settings that are configured on the physical phone
B. the registration file that the phone receives from the Cisco Unified Communications Manager
C. the device and line configuration in Cisco Unified Communications Manager, during the registration process
D. the default device profile that is configured in Cisco Unified Communications, Manager
Answer: C
QUESTION 93
You are a network technician with many years' experience.
Many users complain that they can hear echo when their calls go out an H.323 gateway.
You have made some testing for the gateway and have changed the configuration.
So the ERL level turns to be 6 dB. Furthermore, the echo-cancel coverage value is raised to 64 ms.
Please choose the effect on the voice quality after this modification.
A. Consonants will be chopped by the echo canceller.
B. The increase in echo-cancel coverage will have no effect on voice quality.
C. The ends of sentences will be chopped by the echo canceller.
D. The echo canceller will take 2-3 seconds longer to converge at the beginning of the call.
Answer: D
QUESTION 94
You have placed all DNs in the Phones partition. During testing you discover that you cannot place calls between IP phones, but you can place calls to the PSTN and voice mail.
What is one possible cause of this issue?
A. A database replication issue is preventing calls between phones.
B. An access list is blocking RTP streams in your voice VLAN.
C. An access list is blocking SCCP packets in your voice VLAN.
D. The IP phones have not been assigned a CSS.
Answer: D
QUESTION 95
Refer to the exhibit. According to the output of the debug voip ccapi inout command, why was this call dropped?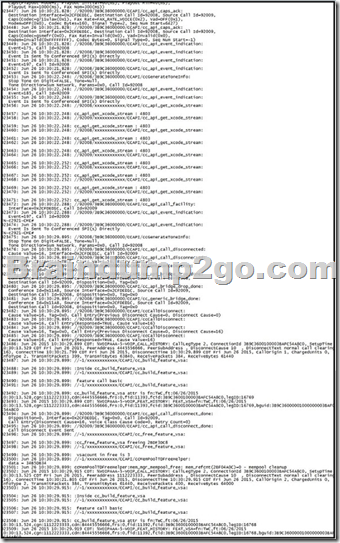 A. Normal call clearing
B. User busy
C. Call rejected
D. Invalid number
E. No circuit
F. No resource
Answer: A
QUESTION 96
You need to increase the maximum number of Meet-Me conference participants on Cisco Unified Communications Manager. Where do you configure this increase?
A. System > Service Parameters > [Publisher Server] > Cisco CallManager (Active) > Clusterwide Parameters (Feature ?Conference)
B. Call Routing > Meet-Me Number/Pattern
C. Media Resources > Conference Bridge
D. Media Resources > Media Resource Group
E. Device > Conference Bridge
Answer: A
QUESTION 97
You are receiving complaints of pixilation, smearing, and pulsing of video calls between two offices that are connected by a WAN. Assuming that QoS is implemented on the WAN connection, which classification should you use to mark the video traffic, according to the Cisco QoS baseline?
A. CS6
B. CS2
C. AF41
D. AF31
E. EF
F. CS3
Answer: C
QUESTION 98
Which Cisco TelePresence Management Suite feature provides proactive suggestions for resolving error conditions and also provides a centralized view of all statuses and configuration errors for managed devices?
A. Cisco WebEx in CiscoTelePresence Management Suite
B. CiscoTelePresence scheduling
C. graphical monitoring
D. ticketing service
E. audit logging
Answer: D
QUESTION 99
Cisco Unified Communications Manager is deployed in a head office and also provides telephony services to remote regional offices. What is a possible cause of call setup issues with phones in the regional offices?
A. remote office firmware for phones
B. codec mismatch in region information settings
C. end user roles and groups
D. physical location configuration
Answer: B
QUESTION 100
Refer to the exhibit. Cisco Unified Communication Manager has been configured with a SAF Security Profile and a SAF Forwarder. In which section of the R1 router configuration should the SAF Forwarder password be entered?

A. interface loopback 0
B. router eigrp saf
C. service-family external client
D. service-family ipv4
Answer: C
---
!!!RECOMMEND!!!
2016/07 Latest Braindump2go Cisco 300-080 Exam PDF and VCE 196q Dumps Instant Download:
http://www.braindump2go.com/300-080.html [100% Exam Pass Guaranteed!]
2016/07 Latest Braindump2go Cisco 300-080 Exam Questions PDF:
https://drive.google.com/folderview?id=0B272WrTALRHcRVZjNGRLeDJsNk0&usp=sharing